We're already taking advantage of the fact that some components provide extra mask output(s) that are useful in texturing. I'm probably not alone in noticing that Terraces can be modulated to have vertical displacements, but the only texturing method available right now involves height based striation that is perfectly horizontal.
This bothered me enough to wonder if there was any way to get some kind of mask generated using the height modulation part of the Terraces device. Is such a thing even possible?
@Stephen, if anyone knows, it'd have to be you. If the question never came up before, kudos for me! I'd be happy to make it an official Feature Request if I just knew it was possible. The best I could come up with on my own involves subtracting the Terraced terrain from the source terrain, Equalizing and Colorizing the result, but that only gives one level of strata, thereabouts. I'm still experimenting, though. Another theoretical feature it suggested was a device like Terraces that would displace an RBG bitmap of "height" based striations an equivalent amount to the Terrace modulation (same source, similar input).
So, yeah. That's it in a nutshell. What do you think?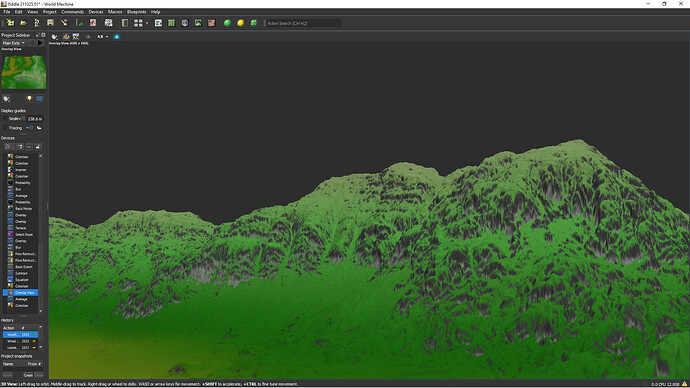 Edit: I moved on to experiment no. 2 and discovered that Erosion was complicating things. I tested it straight out of the Terraces component and discovered that I could get multiple striations. There might be a way to get better results with Erosion, so I'll keep experimenting. Thought it was worth commenting on, though my question still stands, relegated to, "is there a better way to do this?"