It would be great if the Mesh Output could export more elaborate meshes. Instead of blindly exporting a face for each pixel, it would be great if it were possible to have a "feature detail" control that will, instead of just outputting a low resolution mesh, output an optimised mesh that retains the terrain's features, as illustrated below, where you can see a low poly terrain with still an absurd number of faces and blurry shapes versus a heavily reduced low poly sketch on top of the high poly terrain.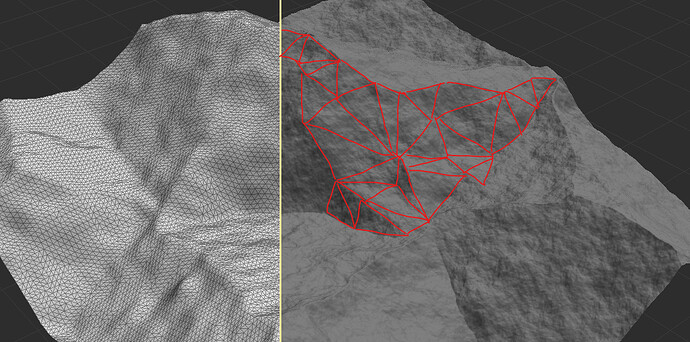 Minimal Slope Delta
I think this is best implemented as a "minimal slope delta" parameter, which determines the minimal difference in slope between 3 (or more) vertexes to remain 3 (or more) separate vertexes instead of being blended together. This ensures that, when for example a hill has a 10*10 pixel area with an overall slope of 1°, WM will no longer export every single vertex in between, but only the start and end vertexes of that area, resulting in a reduction of 96 vertexes (see the image below for an illustration).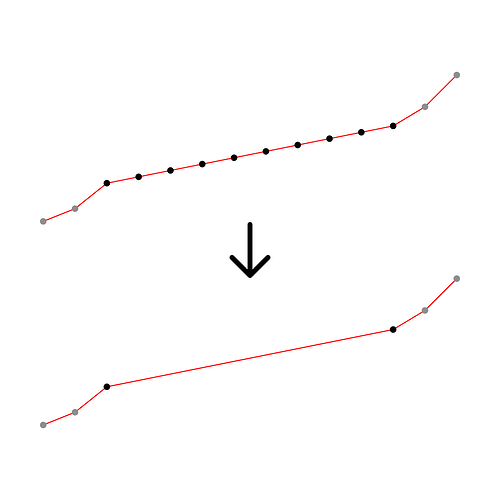 This prevents creating unnecessary detail (as seen in the low poly mesh in the first image), as an area with a constant slope will now result in just one big face with 4 vertexes instead of a subdivided plane with maybe 4096×4096 vertexes (if you were to export a Constant device's terrain at 4K res), which is a waste of resources.
Since a low slope delta is almost analogues to a low feature area, it is a logical parameter to add.
It is an easy to understand parameter, as slope is a commonly used tool in WM.
"Downscaling" a high resolution image to a low poly mesh will probably look better than a mesh of a low resolution image.
Reasoning
As of now, it is not really possible to export a low poly terrain without losing shape determining features, such as ridges. Instead, the overall quality is reduced and still a lot of "unnecessary" detail remains, so you end up with a blurry terrain with still a lot of polygons. Also, a high poly mesh is difficult to handle/edit, often results in stuttering in the 3D program and has an immense file size, and therefore is annoying to work with.
WM already provides a normal map maker and to combine that with the low poly mesh creates for convincing terrain without all the extra polygons and since, when creating a detailed terrain, you're most likely going to use ground assets, the low poly terrain will be hidden from sight.
Downsides
This will probably no longer support quad faces as I think it only works (or works best) with triangles.
Current work arounds
None that I'm aware off, except for using a 3rd party application (in which you will have to work with a high poly mesh which is often a nightmare).