After installing the latest Windows 10 updates, World Machine crashes on startup on loading any TMD file. Even the example files bundled with the application are affected.
The crash does not occur when opening World Machine from its application shortcut, and then opening a TMD file from inside the application. However, an alert is throw: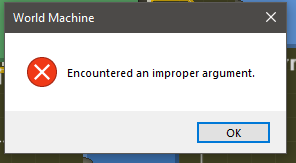 Tested Windows version: Windows 10 v. 2004, OS build 19041.508.
The issue does not occur on the development channel beta.
World Machine version: World Machine Professional 3028 64-bit.