Hey all,
I have recently started using 4016.2 and have had been trying to find a few features, I am not sure if these have been removed or the location has changed.
These features are toggling on tiles and snapping options. I have been unable to find a way to show the tiles in overview and have been getting an issue with the shapes generator, where the vertices of shapes are trying to snap to the nearest point of another or same shape.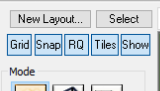 I have been struggling to find documentation on the changes and not seen this in the change lists I have looked at. If anyone knows of any documentation that would cover these changes that would be great.
Many thanks.