Hello,
I've just purchased an upgrade to latest WM, in hope that the user interface has gotten better, but so far, the experience is mostly disappointing.
While the dark user interface is certainly welcome change, that's pretty much where the improvements end.
1, WM is now launched alongside a floating console window. This is absolutely unacceptable for any commercial software in 3rd decade of 21st century. Not only is the window messy, distracting and adds one unnecessary click/step when switching windows (which is especially frustrating since WM is a pipeline tool rather than a standalone content creation software, so one switches back and forth quite often), but closing the console window will shut down WM immediately, without any save prompt or warning. This is a significant downgrade from previous WM versions. You can no longer just click on the windows taskbar to switch to WM, you need to also select the actual WM window instead of the console.
Solution:
Floating console window should be off by default, and enabled only for debugging purposes. Closing the console window should not shut down entire software.
2, The nodes still look ugly and are very clumsy compared to any other node based software. In the new version, this is further aggravated by the fact that clicking while the node wire is stuck to the mouse pointer will not launch a search window, which can not even be dismissed by left clicking outside of it, but right click. If possible, hire some UI designer who knows at least basics of HID input to UI interactions.
Solution:
A: Nodes need modern design. A simple, flat design with slightly rounded corners, no Windows 95 bevel effects, circular node slots and properly antialiased rasterized graphics. Node links should be curved by default, which minimizes the confusion of overlapping wires.
B: Floater style modal window should be possible to dismiss by left mouse button clicking anywhere outside them, as is standard in any other software implementing similar functionality.
3, Font size is completely over the place. On some parts of the UI, like the left sidebar, some fonts are so tiny they are hardly readable even at 32" screen with 100% DPI scaling.
Here's an extreme example: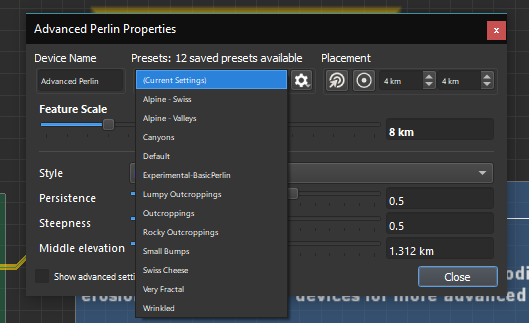 Solution:
Use one font size across entire UI.
4, The icons, their design and their quality is definitely not up to date with rest of the UI.
Solution:
Hire someone to update the icons to match the modern UI design
5, While the node properties are finally not modal, and do not block the rest of the user interface, they are still in form of pop ups, which is also not adequate to software standards in 3rd decade of 21st century. In a modern software, one would expect to have a general properties bar, usually on the right, which immediately displays properties of an actively selected nodes, which allows for uninterrupted workflow, instead of having to constantly deal with floating windows covering parts of the user interface.
Solution:
Introduce new properties panel on the right, which always displays the properties of currently selected node. Deprecate floating node properties windows.
6, We can finally have multiple editors within a single UI window, through the new pane arrangement button, however the UI completely fails to communicate to the users how to change the contents of given panes. There's no border highlight to indicate that the active pane was the last one .
Solution:
Introduce new small UI element (usually a bottom pointing arrow/triangle) to a top right corner of each pane, which opens a named list of all the available pane modes (Device/Layout/Explorer/2D/3D) and deprecate pane switching buttons at the top bar, as it's not clear to the user which pane is currently being affected.
7, Navigation of the small 3D preview in the sidebar and main 3D view is not consistent. In small one, all 3 mouse buttons change light angle, and it requires Alt key to navigate, while in the larger one, navigation does not require alt key.
Solution:
Input in both of these should be unified. I'd keep the standardized LMB/MMB/RMB navigation, which is great, but would map adjusting light angle to something like Shift+LMB for example.
8, Zooming in 3D views using mouse wheel has a very ugly input lag. The smooth interpolation is way, way too much. I know this is usually intended to smooth out the mouse wheel movement, but here it's been taken to the absolute extreme.
Solution:
Reduce movement interpolation when zooming with mouse wheel significantly.
9, There's still that nonsense where node creation is a persistent mode one has to quit out of. In other words, if you want to create a node, and you click to create it, you are still stuck in the node creation mode until you right click to exit it. In almost all cases, this feels like an UI input bug rather than something desired. Amount of cases where user actually wants to create multiple nodes of the same type at the same time is miniscule, so in most cases, this is undesired.
Solution:
Once node is placed the first time, exit the node creation mode immediately.
10, I wanted to write that if user wishes to create multiple nodes of the same type in rapid succession, they can simply perform quick hotkey based copy and paste after initial node creation, but I was in for a nasty surprise, as pasting doesn't actually paste nodes, but enters a modal node placement, which is also very undesired.
Solution: When paste shortcut is executed, paste nodes immediately under the cursor position. This should never ever be modal. It should align with common sense standards of computer software. This doesn't happen in any other software.
11, Pane layout does not get saved within the file and is reset every time file is reopened. This kinda defeats the purpose of having customizable UI layout.
Solution:
Remember UI layout changes.
These are just a first few impressions. I will try to post more once I come across them.
I really hope at least a few of these can be implemented, so that we can finally stop using WM as the textbook example of a good software (in terms of under the hood tech) spoiled by poor UX and UI, which has been the case up until now.
Thank you.